Crafty Survivors - Prototype
A downloadable game for Windows and macOS
We are looking for feedback on this first prototype for our game. Leave a comment with what you think if you can! Thank you.
Wishlist it on Steam here:
Check out our Twitter page if you want to know more about the development of this game.
Overview
All heroes got corrupted! Unlock a diverse cast of crafty professionals, use their unique skills, create your own builds and defend your home by eliminating hordes of monsters. Gather materials, rebuild your village and craft your way to the origin of this malignous curse!
Unique Builds Every Stage
Select from a variety of upgrades in this Action Roguelite, to create unique builds catered to each character on each run. Are you going to be a Chef focused on serving deserts or roasting your foes? A Weaver that will patch your enemies together or massacre them with yarn balls? Which material would you choose for your statues: wood or marble? Find your own crafty way to SURVIVE!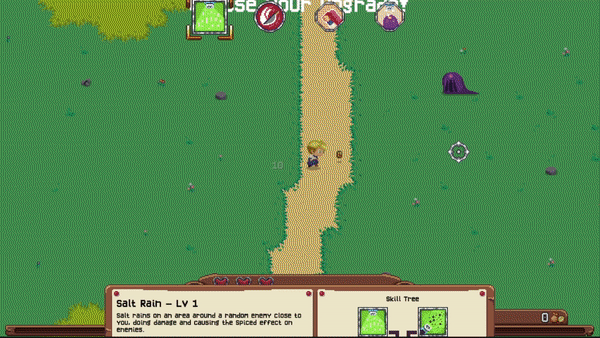 Select your Crafter
Choose from a variety of crafters and artisans with their own unique set of skills and mechanics, for different gameplay experiences. Between cooking your enemies, sewing them together or building statues that will crush your foes, there will always be a crafty way to defend your home!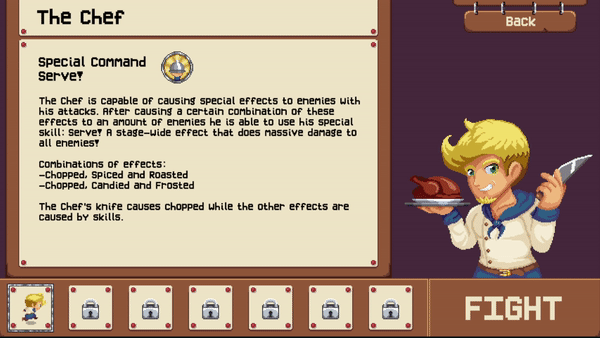 Upgrade your Village and get more Powerful
Gather materials from enemies and use them to upgrade your village, unlocking new characters, extra buffs and grow your power even further.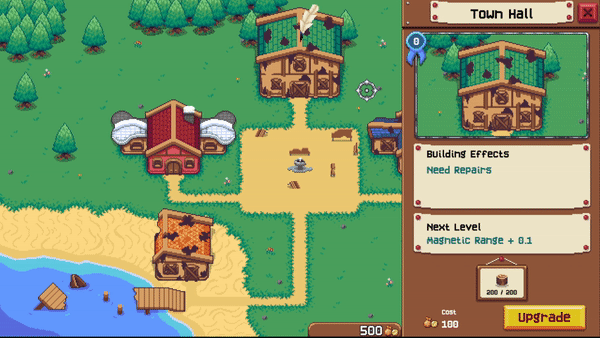 Features:
Fight in a diverse set of different biomes, with their own challenges, added through updates;

A wide variety of crafters and artisans, with more being added through updates;

Different skill trees on each character for you to discover;

Quick play sessions for busy gamers;

Food System allows you to customize your play even further.
Download
Click download now to get access to the following files:
Crafty Survivors_First Prototype.zip
39 MB
CraftySurvivors_Mac.zip
49 MB
Comments
Log in with itch.io to leave a comment.
I like the cinnamon spikes skill, but i feel when you use it, it should be a little closer unless it is meant to be used at a long range
Really enjoy it so far. Controls feel nice, it also has a good difficulty. One thing though, and it could just be my setup. But i play on a widescreen monitor, and I couldn't get the aspect ratio to fit my screen. If someone has a work around let me know! I just wasnt able to see the ability list except for the top edge. Otherwise I'm really liking it.
Hey Duokana!! Really glad you enjoyed it so far!
Could you let us know the resolution of your widescreen monitor? We can try checking related to your specific resolution and see what could be the issue and how to address it.
Thank you!
Normally i use a 2560x1080 resolution, but i was able to adjust it down to the normal 1920x1080 and it looks good now
Does this build have more than the first grassland level? And, are the other resources - stone & cotton? , only available when the other two characters are used?

First impression - good controls, very funny abilities, looks like a nice, constantly rewarding game loop too. I wish the build had more content, it would be awesome to stream it.

LE: Oh, got through the first level. It's addicting.
Thank you so much for playing!
This first build is only a prototype, but there are 3 different stages on the Grasslands itself, with 2 different materials: wood and stone. Only the first character is available on it for now. We will include the 2nd character that we are working on in a demo with a bit more stages, and introduce the 3rd character in the Early Access of the game.
Hopefully we are getting to more content pretty soon with the planned scope of the game's demo. This prototype is more intended towards feedback for now. I would be glad to catch your stream in the future when you decide to make it, so let us know. :)
What controls were you using? Were you playing on keyboard or gamepad? Just curious.
Definitely looking forward for more.

I got through the three levels, it was really fun. I used the keyboard & mouse, I prefer the mouse when precision aiming is needed.

Some extra feedback, to me it seemed like the upgrades for the basic attack are very powerful. So powerful that I would take that upgrade over certain abilities, like...the chocolate blob? I don't remember the names. If I had to rank the abilities - 1st Frying pan 2nd Rain 3rd Pepper shot/Icing 4th Fridge/Furnace 5th Chocolate blob .

Also, I never really felt the need/desire to get more than three abilities. Easier to manage button-wise.
Glad to know you used the keyboard & mouse. Between me and my spouse we play with different controls (I prefer using the gamepad and he uses mouse & keyboard as well), we are trying to find out if the controls are set up in an enjoyable manner, so thank you for letting me know.
Yes, the Caramel Drop (chocolate blob) is intentionally weaker because it creates the puddle of caramel that slows down the enemies that step on it and applies the Candied effect without dealing damage if the Drop doesn't hit the enemies but they step on the puddle. It makes things easier to build up the Serve ability since enemies in the beginning have less HP. Maybe with different stages, other skills might look more interesting due to their utility instead of the damage. :)
Thank you so much for your feedback and for taking your time to try our prototype! We are working on more content for the game and another character right now! We believe our next step would be to improve this prototype with the 2nd character and more stages so we can have a playable demo here and on Steam. :D
Sounds like the Caramel Drop would be great combined with the Rain, if the areas of effect are superimposed. Who's the second character, the tailor?


Yes, they would work very well combined. Since the rain chooses its target randomly, it is a bit difficult to combine but their effects would work greatly on enemies with more health, since activating the Salt Rain and throwing the Caramel Drop in the AoE would create a good area for damaging enemies.
Second character is the Sculptor, where his mechanics revolve around sculpting statues during the fight. The Tailor will be the 3rd character in the mix and she will be the most mobile between the 3 initial characters we planned. We are thinking about having her for the initial Early Access release.